Image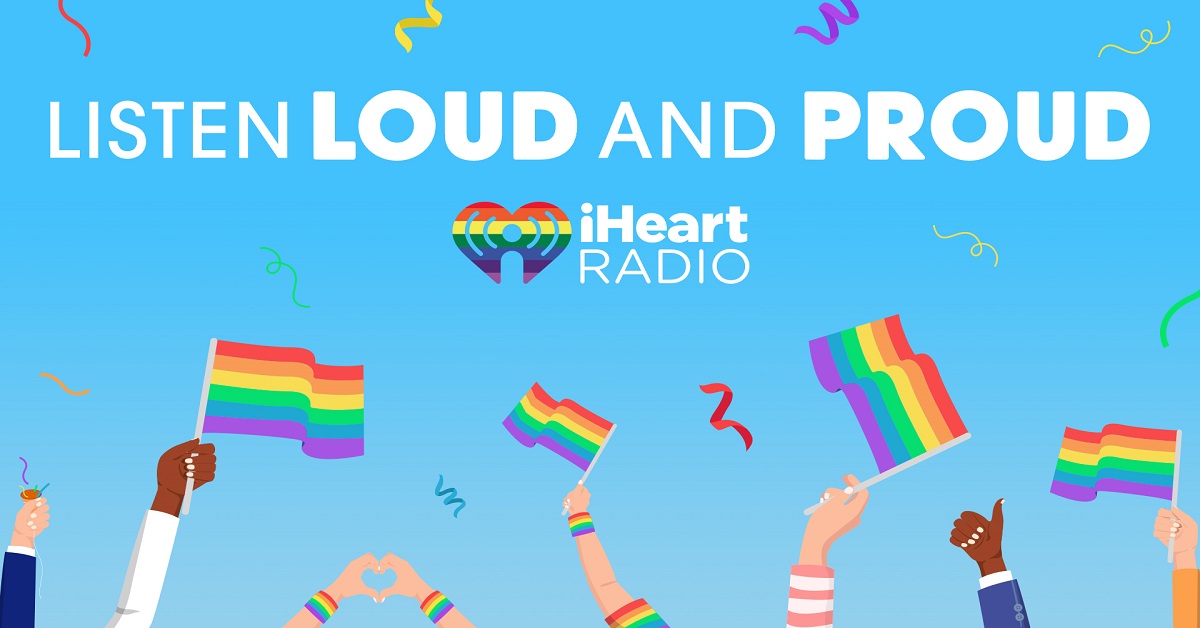 Celebrate Pride Month With iHeartRadio!
Pride Month is here, a time when millions come together to celebrate and appreciate the LGBTQ+ community while spreading knowledge, understanding and inclusion for all people. iHeartRadio stands proudly in support of these communities, and this year, we're hoping to provide you with even more ways to celebrate, educate and inspire this Pride Month!
Find the perfect soundtrack to your Pride Month festivities with all of iHeartRadio's pride-themed playlists, radio stations, artist takeovers and special live events—airing all month long! From the best in music at PRIDE Radio, to podcasts from your favorite LGBTQ+ creators, fundraising events and Pride parties hosted by local radio stations across the country, there's unlimited ways to celebrate and appreciate the LGBTQ+ community!
Enjoy your favorite hits on PRIDE Radio as you celebrate love and dance like it's nobody's business all June long—and share some of your favorite moves and moments with us using on social using #iHeartPride!
Or, check out some hit iHeartRadio original podcast series made by LGBTQ+ creators, for the LGBQT+ community. Go deep on the issues with intimate, truth-only conversations from "The Laverne Cox Show," or share some laughs and pop culture moments with "Las Culturistas with Matt Rogers and Bowen Yang." Hear in-depth interviews with the most interesting LGBTQ+ people in the world on the "LGBTQ&A" podcast—and get advice on sex, relationships, identity and more from the hosts at "Food 4 Thot."
In addition, hit radio stations across the country are also participating in local Pride celebrations across the country with on-air contests, fundraising efforts, street festivals and much more!
Chicagoans get ready for not one, but two local celebrations and live events! "Keeping Pride Alive 2021" on June 24 will feature performances by LGBTQ+ artists and allies Daya, Duncan Laurence and Ava Max, and "Pride the Park" will see appearances by Chaka Khan, Gryffin and Tiësto. 103.5 KISS FM will be on-site for both events, and giving away some free tickets along with airing a "Turn Up The Love" Instagram Live program featuring special guest, Daya.
New York City is throwing a series of blow-out Pride celebrations too, as Z100 and 103.5 KTU join forces with iHeartRadio for "NYC Pride:" a series of events centered around the legendary Pride Island. Also, entering its 27th year, is the annual "PrideFest" celebration: a street fair that combines exhibitors, entertainers, food and activities for a day of celebration and fundraising for various local nonprofits in the name of equality.
Out west in California, San Francisco is hosting its first-ever "Pride Movie Night," which will be held at Oracle Park baseball stadium and feature the world premiere of Lin-Manuel Miranda's hotly anticipated new film, In the Heights, on June 11. And in Los Angeles, the annual "Pride Makes A Difference" campaign is back again to spotlight and encourage volunteering for LA-based charitable organizations and small businesses in the LGBTQ+ community.
If you want even more pride-theme special events and performances from your favorite artists, then check out iHeartRadio's annual "Can't Cancel Pride" concert. Hosted by radio royalty Elvis Duran and pop queen Bebe Rexha, this year's event featured some of music's biggest names and up-and-coming stars—including Lil Nas X, P!nk, Marshmello, Ricky Martin and Bebe Rexha herself. You can stream the star-studded affair on iHeartRadio's YouTube and on Revry all month long!
Stay tuned to iHeartRadio all of June for even more pride-themed content still yet to come. Happy Pride everyone!