Maximize Your iHeartRadio Experience with Xbox One on UWP
Calling all gamers! The iHeartRadio app for Xbox One has exciting news today: Xbox One will now be on UWP (Universal Windows Platform), meaning that all of our Windows 10 apps across mobile, tablet, desktop, and now Xbox One, will share a sleek, completely refreshed design.
And if you're anything like us, you probably enjoy listening to music as you battle your way through the next level of Gears of War, or throw that perfect touchdown pass on Madden 17. But have you ever wished you could listen to your favorite tunes on iHeartRadio as you game? Well, thanks to Xbox One on UWP, that dream is now reality — the new Background Audio feature will enable you to stream iHeartRadio while you "level up."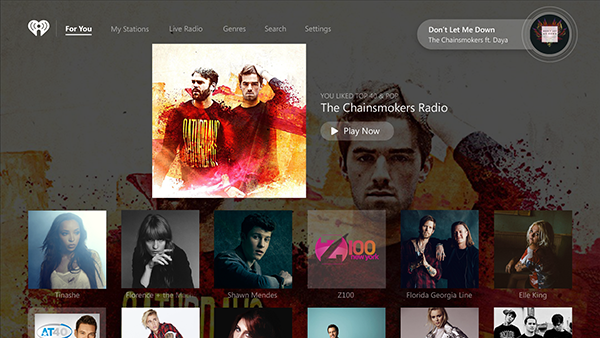 But that's not all. Now you can rock out to My Favorites Radio - a personalized station with every song, artist and genre that expresses your individuality. And with our new enhanced browsing features, you'll be able to find the stations you want based on location and genre — making your overall Xbox One experience even more uniquely tailored to you!
Xbox One is just one of our more than 90 integrations across multiple platforms from wearables, home entertainment, gaming consoles, and more that allow you to enjoy your favorite iHeartRadio stations anywhere you go!