Meet the iHeartRadio Engineers: Ravi Mody
Earlier this year, we launched a series that profiles our hardworking iHeartRadio engineering and product team. Today, we're excited to chat with data whiz Ravi Mody!
For the past year, Ravi Mody has worked at iHeartRadio as a senior data scientist. Before this, he spent ten years working in data science, covering a wide variety of applications including fraud detection, credit scoring and advertising. In addition to hacking and playing with data, he enjoys listening to music, exploring the city and being active outdoors.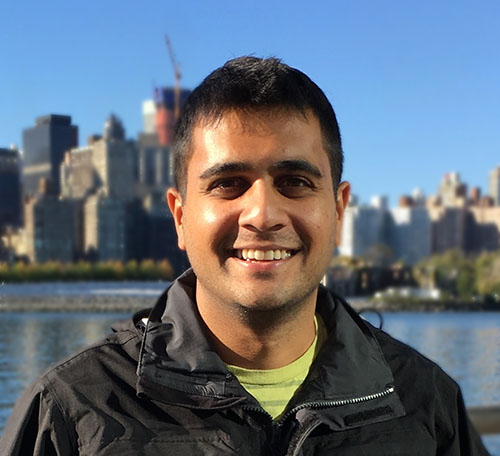 Why did you choose to become a data scientist?
I've always been fascinated by artificial intelligence and the prospect of computer programs that can make complex decisions beyond human ability. To pursue this field, I did undergraduate research and got my Masters in AI and Machine Learning. I initially started studying robotics but switched to software (and ultimately data science) when I realized how the huge growth of data had created a lot of interesting problems to work on. It's been a great experience and I feel incredibly lucky to be working in a field I'm passionate about!
What is one piece of advice you would give to aspiring data scientists?
It's important to keep in mind that data science is both really broad and deep. This can be daunting to someone starting out in the field, but it's exciting because it's possible to personalize your career to your interests by deeply specializing in subfields like machine learning, data visualization, software engineering, etc. That said, I'd advise new data scientists to concentrate on building a broad foundation rather than specializing too early; in my experience, this kind of breadth creates the best data scientists. This process involves constantly recognizing and improving relative weaknesses (something that should never actually end throughout your career).

What is your favorite thing about working with iHeartRadio's data?
The diversity of our data. One of the things that makes our product unique is the wide variety of ways you can listen to music: there are AM/FM radio stations, personalized custom stations, a My Favorites station that aggregates and suggests tracks and artists we know you like, Perfect For stations that are curated by music experts, and even podcasts. This diversity creates unique problems to work on, like presenting a unified user experience to people who use the service in really different ways.

What's the most exciting project you've ever worked on at iHeartRadio?
It's something we haven't deployed publicly yet so I can't go into too much detail, but it involved researching new machine learning methods to deal with our large, diverse datasets. The results are great so far, and I'm excited to get it out there!  
What has your favorite iHeartRadio music moment (e.g. concert, event, celebrity meeting) been so far?
I love live music and one of my favorite perks of working at iHeartRadio is access to loads of concerts. iHeart puts on Hall Pass performances about once a week, which are intimate shows right in the office. I think my favorite so far was Andra Day: her performance was really raw and soulful. There was something special about seeing her live in that setting.

What's your favorite iHeartRadio Artist Station to jam out to while you work?
I like listening to Bon Iver's station when I want something easy going that won't distract me while coding or working through a tough problem. When I need something more upbeat I enjoy the Beats and Bleeps station: it's got a great combo of genres that mix really well together.
Stay tuned for next month's edition of "Meet the Engineers" to learn more about life as an iHeartRadio engineer. To join the iHeartRadio engineering team,
visit our Jobs page​
.
​​