Image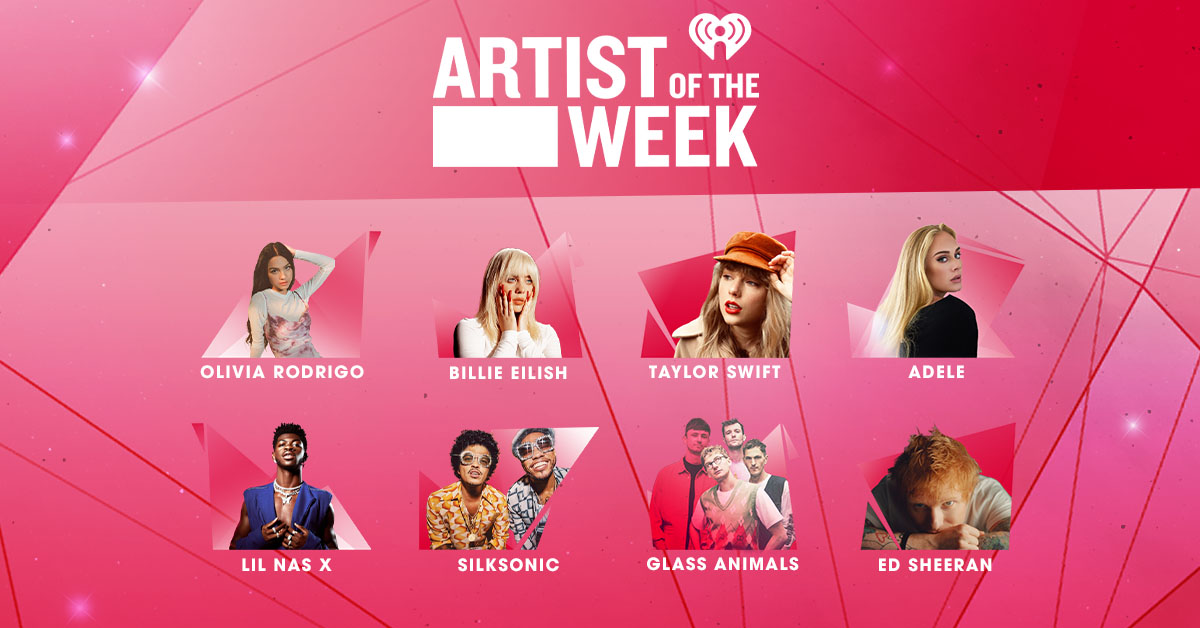 Artist of the Week: 2022 iHeartRadio Music Awards Best Lyrics Nominees
The annual iHeartRadio Music Awards are back and better than ever! The full list of nominees have been announced, celebrating the year's most-played artists and songs on iHeartRadio stations and the iHeartRadio app. Check out this year's socially voted Best Lyrics nominees below!
"All Too Well (10 Minute Version) (Taylor's Version) (From The Vault)": From her re-recorded hit album Red (Taylor's Version), Taylor Swift sings about love and heartbreak in this ten-minute-long rollercoaster of emotions.
"Bad Habits": Ed Sheeran reflects on past vices in this hit single, which marked the singer-songwriter's return to music after a two-year hiatus.
"deja vu": This mid-tempo pop tune explores the complex feelings of a breakup from Olivia Rodrigo's debut studio album, Sour.
"drivers license": Also from Sour, Olivia Rodrigo's smash debut single ran eight weeks at No. 1 on the Billboard Hot 100 charts.
"Easy On Me": Adele croons about her divorce in this raw, wistful ballad - her first new music release in six years.
"Happier Than Ever": This title track from Billie Eilish's 2021 hit album, Happier Than Ever, features a two-part song structure going from soft melodic singing to a full-on rock-out.
"Heat Waves": From English pop group Glass Animals, this Billboard No.1 Pop Airplay hit still remains a fan-favorite since its release on the 2020 album Dreamland.
"Leave The Door Open": Bruno Mars and Anderson .Paak team up as R&B-duo Silk Sonic in this debut single featuring smooth, romantic lyrics.
"MONTERO (Call Me By Your Name)": Written in dedication to his younger self, Lil Nas X sings about the struggle of coming out and the courage to be oneself in this infectious tune.
"Your Power": She's not holding back - Billie Eilish calls out those who abuse their power in this acoustic single from the modern pop star's album, Happier Than Ever.
Vote today for your favorite song on Twitter using the appropriate category and nominee hashtags (#song + #BestLyrics + #iHeartAwards) or by visiting iHeartRadio.com/awards. Social voting will close on March 15th at 11:59pm PT for all categories.
And don't forget to tune in to the 2022 iHeartRadio Music Awards on Tuesday, March 22nd live on FOX at 8/7 CT to see who wins!
Who's going to take home the gold? That's for you to decide, so make sure to cast your vote for Best Lyrics at iHeartRadio.com/awards and listen to all the music from this year's nominees!