Image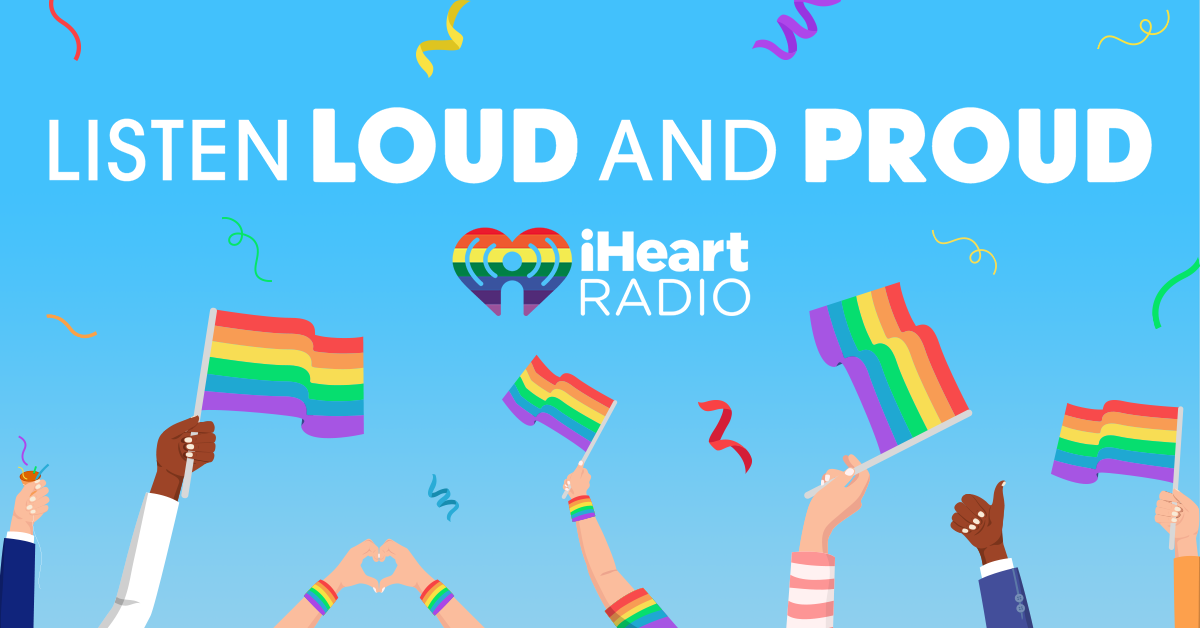 Celebrate Pride Month with All the Fun iHeartRadio Has to Offer!
It's Pride Month again! This is a wonderful time to celebrate the LGBTQ+ community by spreading knowledge and understanding and encouraging inclusion for all. iHeartRadio stands proudly in support of these communities, and to honor our commitment, we're excited to highlight a few ways to celebrate, educate and inspire this Pride Month!
Find the perfect soundtrack to your Pride Month festivities with all of iHeartRadio's pride-themed playlists, radio stations, artist takeovers and special live events—airing all month long! From the best in music at PRIDE Radio, to podcasts from your favorite LGBTQ+ creators, fundraising events and Pride parties hosted by local radio stations across the country, there's so many ways to celebrate and appreciate the LGBTQ+ community.
Our third annual "Can't Cancel Pride," a relief benefit raising funds for six leading LGBTQ+ organizations, will stream on June 14 with performances and appearances from some of the most influential voices in the community as well as the biggest names in culture and entertainment, including Elton John, Katy Perry, Sam Smith, Lizzo, Anitta, Dove Cameron, Betty Who, Kim Petras and more. This year, the event will be hosted by singer, actress and social media phenom JoJo Siwa.
"Can't Cancel Pride – Proud AND Together" will stream on June 14 at 8 p.m. ET / 5 p.m. PT on iHeartRadio's TikTok, YouTube, Facebook, pages, iHeartRadio's PrideRadio.com and Revry. The event will later be available on-demand until June 30 on iHeartRadio's YouTube, Facebook and Revry.
If you love all things audio as much as we do, enjoy your favorite hits on PRIDE Radio as you celebrate love and dance like it's nobody's business all June long, or check out some hit iHeartRadio Original podcast series made by LGBTQ+ creators, for the LGBQT+ community. Go deep on the issues with intimate, truth-only conversations from "The Laverne Cox Show," or share some laughs and pop culture moments with "Las Culturistas with Matt Rogers and Bowen Yang" and "Pridecast with Jonathan Bennett." Join lovebirds Emily Estefan and Gemeny Hernandez on their "In Our Own World" podcast and laugh out loud as they bond over living outside the margin, or share even more laughs with Emmy Olea on "Crumbs" as she recounts what it's like dating as a trans woman. To celebrate Pride and discover more podcasts you'll love, check out our LGBTQ list on iHeartRadio!
The fun is also happening in your community! iHeart's hit radio stations across the country are also participating in local Pride celebrations with on-air contests, fundraising efforts, street festivals and much more.
In the midwest, Chicagoland residents will have tons of opportunities to celebrate Pride as local stations take part in both Pride Fest, on June 18th and June 19th, with performances from world-famous drag stars and more artists. The following weekend, Pride In The Park, a 2-day music festival in Grant Park on June 25th and June 26th, will feature performances by The Chainsmokers, Alesso, Daya and more. In Ohio, Columbus Pride Fest takes over the weekend of June 17th, with tons of activities like a march and brunch. And in Toledo, iHeart listeners have the chance of nominating a couple they know and love to receive a free wedding, including rings and a $10,000 voucher for a venue! 
If you're in Denver, don't miss Pride weekend on June 25th and June 26th where local stations will participate in events like a Drag Brunch, a Broadway showtune sing-a-long, family day, yoga and more.
Over on the east coast, New York City – where Pride was born – will host its iconic Pride march on June 26th, ending at the historic Stonewall Inn to commemorate the Stonewall Riots that later turned into pride celebrations around the world. Further south, Washington D.C. will host the Capital Pride Parade on June 11 and the Capital Pride Concert on June 12, featuring the hit band DNCE. And in Florida, Miami will host the Stonewall Pride Parade & Street Festival on June 18th.
On the west coast, San Francisco will host SF Pride on June 25th and June 26th with a parade and plenty of live music and the LGBTQ Film Festival to promote filmmakers from the community. In Los Angeles, iHeartRadio's Wango Tango will be the kick-off event to L.A. Pride Week this year on June 4, with tons of events following throughout the week and around the city. 
Stay tuned to iHeartRadio all of June for even more Pride-themed content still yet to come. Happy Pride everyone!