Employee of the Month Playlist: Trina King
Eclectic is an understatement when it comes to May's Employee of the Month playlist! Senior Manager of Publishing Operations Trina King loves the classics, but enjoys more modern artists as well. We can't help but envy her great taste in music—check out her playlist below!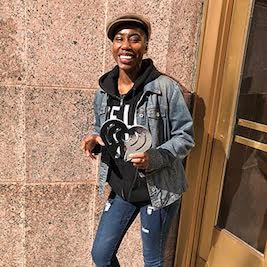 Why did you choose the songs on your playlist?
These are the songs I've been listening to the most lately.
When do you listen to this playlist most?
On the J train, on my way into the office.
Who is your dream artist to meet and why?
If we're talking alive or dead, Miles Davis. He was unapologetically himself and played exactly the type of music he wanted to play.
Can you share your most memorable music moment experience?
Watching Radiohead perform "Paranoid Android" live during an outside concert. In the last verse of the song, Thom Yorke sings 'rain down' over and over and it just so happened to start pouring rain right when they started that part of the song. So dope.
What is the best part about working at iHeartRadio?
My coworkers. I love getting music recommendations from them.
A fun fact about me is…
I've been collecting records for over 15 years and it's still killing my pockets.
Trina King's Playlist​​​​​​​​​​​​​​