Employee of the Month Playlist: Gabe Miller
Our April Employee of the Month Gabe Miller, a product developer at iHeartRadio, is not only a music lover, but also a music creator! It's no surprise, then, that his playlist is chock-full of artists that influence him and his music. Check out his full playlist below, and experience some fresh music genres, like post-rock!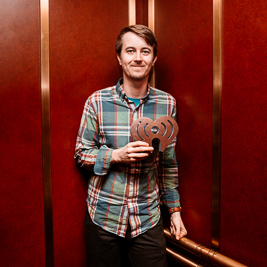 Why did you choose the songs on your playlist?
Each song represents a different point in time for my major musical influences, and every song is important to me for one reason or another. I've also seen almost all of these artists live, so those are some of my absolute favorites of all time.
When do you listen to this playlist most?
This is a perfect "throw it on whenever" playlist for me. I could work to this, or throw it on during a commute or while relaxing at home.
Who is your dream artist to meet and why?
Any of the guys from Explosions in the Sky, as this band was so formative for me when I was in high school and college. I was absolutely addicted to their music back then, and they are still a huge influence on me.
Can you share some of your most memorable music moment experiences?
There are so many to choose from—seeing Explosions in the Sky at the Crazy Donkey back in 2008, going to Bonnaroo 2012 or SXSW in 2017, and making music with my friends.
What is the best part about working at iHeartRadio?
I love the people here at iHeart, and having the opportunity to work on music products that impact millions of people.
A fun fact about me is…
I like to play drums and guitar in my free time, and have produced a few albums with my friends.
1. Motion Sickness - Phoebe Bridgers
2. Boathouse - Noah Gundersen
3. Appointments - Julien Baker
4. Only One - Amy Jay
5. More I See - S. Carey
6. Anchor - Novo Amor
7. Youth - Daughter
8. Milk & Honey - Billie Marten
9. Footfalls - Tyson Motsenbocker
10. King and Cross - Ásgeir
11. For You - Fickle Friends
12. The Only Moment We Were Alone - Explosions in the Sky
13. Glósóli - Sigur Rós
14. Ára bátur - Sigur Rós
15. The Mighty Rio Grande - This Will Destroy You
16. Portland, Maine - Donovan Woods
17. You Never Need Nobody - The Lone Bellow
18. Adelina - Johnnyswim
19. White Flag - Joseph
20. Alright Alright - ON AN ON
21. Something American - Jade Bird
22. This House Is Not For Sale - Ryan Adams
23. Unmade - Sleeping at Last
24. Chin Up - Copeland
25. Bury the Floors - Scattered Trees ​​​