Meet the iHeartRadio Engineers: Chaitanya Reddy Teegela
Last year, we launched a series that profiles our hardworking iHeartRadio engineering and product team. Today, we're excited to chat with Chaitanya Reddy Teegela, Product Manager for Android at iHeartRadio.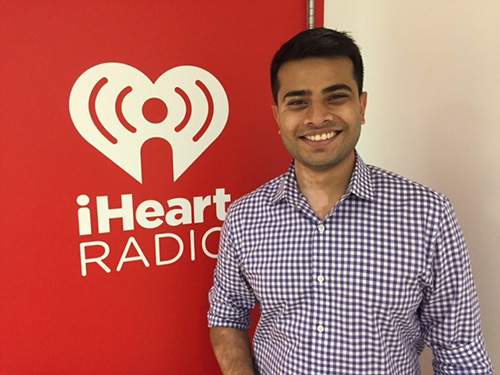 1. Why did you choose to become a product manager?
While working as an Android engineer, I often wanted to influence more aspects of a product's definition and design, areas where engineering historically doesn't have a large stake. This caused me to briefly explore different roles in software development, such as project management, UI/UX design and product management. I naturally gravitated towards product because I love thinking through abstract problems, ideating solutions and building great products in a cross-functional team. Most importantly, I love shipping products to our users, receiving their feedback and starting the cycle all over again.
2. What's the most exciting project you've ever worked on at iHeartRadio?
I'm just a few months into the Android product manager role so far and I'm excited to learn about the incredible behind-the-scenes complexity that allows us to rapidly iterate on our products. At the moment, I'm working on localizing our app to multiple regions and languages so it's accessible to a broader spectrum of our users.
3. What is one piece of advice you would give to aspiring product managers?
Hustle! Our job descriptions can be a bit vague, but the goal is always to ship successful products. Work with the team and perform whatever tasks need to get done, regardless of their significance, in order to move the project forward. It's a team effort, so the more tasks you can take up yourself, the more it allows your team members to focus on their aspect of the product.
4. What has your favorite iHeartRadio music moment (i.e. concert, event, celebrity meeting) been so far?
Hall Passes: these are cool perks for iHeartRadio employees where we have rising artists in different genres perform live for us in our office! They're always wonderful and serve as a constant reminder that we work on a symbiotic platform which allows not only users to discover music, but also for artists to build their audience.
5. What's your favorite iHeartRadio Artist Station to jam out to while you work?
Coldplay Radio, featuring OneRepublic, Imagine Dragons, The Fray etc.
Stay tuned for next month's edition of "Meet the Engineers" to learn more about life as an iHeartRadio employee. To join the iHeartRadio engineering team, visit our Jobs page​.​